Gem Home Care Screening Process
Our screening process includes checks of professional and character references, proper licensure or certification, criminal history record, satisfactory work record, and good health. Employees must then comply with our agency policies & our Agreement to Standards. Staff competence is evaluated and monitored regularly. If additional skills are needed to meet our clients needs, we provide specific training.
We protect our clients and also value our employees. Therefore, we protect our employees with worker's compensation, professional liability and insurance.
Services To Benefit You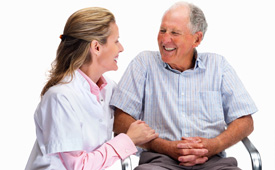 Gem Home Care, Inc. is dedicated to serving your home health care needs. We can reduce the stress, cost and inconvenience of transitional and long-term health care as we help people with medical/nursing care, personal care and household tasks that enable them to stay home, close to family and in greater comfort than other choices offer.
With Gem Home Care you receive the best personal nursing care possible in your own home. Medical research shows that convalescence in a familiar environment can speed recovery and reduce stress, ensuring comfort. Gem Home Care also offers a more economical alternative to the rising costs of hospitals and institutions, for convalescence or respite, short or long term.