Our Hospice Philosophy
Considered to be the model for quality, compassionate care at the end of life, hospice care involves a team-oriented approach to expert medical care, pain management, and emotional and spiritual support expressly tailored to the patient's needs and wishes. Hospice affirms life and concentrates on allowing people to live fully and comfortably.
At the center of hospice is the belief that each person has the right to die pain-free and with dignity, and that their families will receive the necessary support to allow them to do so. Death is life's ultimate challenge, and challenges should be faced together with all the resources we can gather. Hospice can help terminally ill people, their family, and friends face death together. The focus of Hospice is on caring, not curing; meeting the physical, psychosocial, social, and spiritual needs of the whole person and family.
What is Hospice Care?
Hospice is a special way of caring for individuals who are in the final stage of their lives due to a terminal illness. Hospice services help patients, who are no longer seeking aggressive treatment or a medical cure, manage their terminal illness at home or in a home like environment.

Advantages of Hospice Care
Hospice treats the person, not the disease; focusing on the family, not just the individual; and emphasizes the quality, not the duration, of life.

Hospice care allows terminally ill patients and their families to remain together in the comfort of their home, promoting peace and dignity.

Hospice utilizes an interdisciplinary approach, utilizing the combined knowledge and skills of a team of professionals.

Hospice provides a comprehensive continuum of services.

Hospice care has proven to be a cost effective alternative to hospitals and nursing homes since the majority of services are delivered in the home.
Hospice Eligibility
Hospice services are available to anyone with a terminal illness. The final decision to be admitted to the program will be determined by the hospice interdisciplinary team in consultation with the patient, their family, and their physician.
Is Gem Home Care & Hospice the right choice for you or your loved one?
If you think that Hospice is the right choice for you and your family, or if you have any questions about the services we offer, give us a call at: (215) 396-4950
The Hospice Team
Gem Home Care & Hospice utilizes an interdisciplinary team of health care professionals and volunteers to address physical, emotional, and spiritual needs.
The hospice team works with the patient and family to establish and coordinate an individualized plan of care. The care provided is dependent upon the needs of the terminally ill and their families.
Our hospice team includes:
Medical Social Worker

Registered Dietician

Chaplain & Counselors

Specially Trained Volunteers

Pharmacists
Primary Physician

Hospice Medical Director

Skilled Nursing Care

Home Health Aide care

Certified Nursing Assistants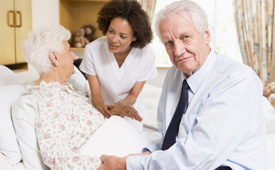 Hospice Reimbursement
Hospice services are reimbursable by Medicare, Medicaid, and most private insurance companies. We work closely with hospice families to identify reimbursement options.